School swimming lessons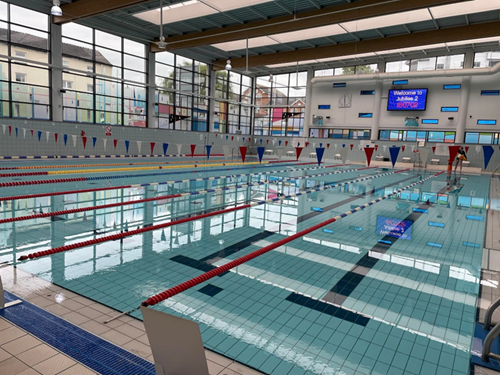 By the time a child is ready to leave primary school they should:
be able to swim
know how to get out of trouble if they fall into water
know the dangers of water
understand how to stay safe when playing in and around it.
National curriculum swimming and water safety programme
Jubilee 2 features a 25m, 8 lane swimming pool and a teaching pool 12mx10m with an adjustable floor depth to cater for all swimming abilities. The changing village offers individual cubicles and separate school swimming changing rooms that all teachers are given access to on their arrival to the Jubilee2.
Swimming and water safety instruction must be provided in either Key Stage 1 or Key Stage 2. Schools should provide sufficient swimming opportunities to ensure all pupils make progress and achieve their very best in swimming and water safety. This includes those pupils with special educational needs, those with a disability or impairment and those whose first language is not English.
The requirement is for all Year 6 pupils to meet the statutory minimum standard of capability and confidence in swimming and safe self-rescue, as set out in the national curriculum.
The three minimum requirements are that by the time they're ready to leave Key Stage 2 every child is able to:
Swim competently, confidently and proficiently over a distance of at least 25 metres.
Use a range of strokes effectively.
Perform safe self-rescue in different water-based situations.
| Attainment | Criteria examples |
| --- | --- |
| Perform safe self-rescue skills. | Floating, treading water, attracting attention, safe self-rescue circuits or scenarios. |
| Use different strokes and swimming skills for different outcomes. | Swimming lengths, play water polo, tread water. |
| Swim competently, confidently and proficiently further than 25 metres. | Swim increasingly longer distances using a range of strokes, compete in a race or gala. |
| Talk about how to behave when in and around water and how to help in an emergency. | Be able to explain where incidents could take place and what number to call for help. |
What does this mean?
A continuous swim of more than 25 metres without touching the sides or the pool floor without the use of swimming aids. Where possible part of this swim will be in deep water, this is because competence and proficiency cannot be assured if the swim took place in shallow water.
Please note that it is hoped that a number of swimmers will be able to swim significantly further than 25 metres and is something that we will encourage in a safe environment at Jubilee2 with qualified Swim England swim teachers and NPLQ lifeguards on poolside at all times.
Pupils will be able to use a range of strokes that they can use to achieve the different outcomes to enable success. The pupils will experience both simultaneous and alternating strokes on their front and back for a range of purposes and intended outcomes. For example, this may help with an extended swim of 50 metres or the ability to tread water successfully.
Water safety is a key part of the school Swim England swimming programme at Jubilee2 and a safe self-rescue in different water based situations throughout the pupils learning. Pupils will learn to understand how to act responsibly when playing in or near different water environments. This also includes water safety at home. Adhering to national and local water safety advice, appropriate survival and self-rescue skills will be discussed throughout the programme. Increasingly important is knowing how to get help for others without putting yourself in danger or how to survive yourself if you have fallen into water unintentionally. All of this information on the Jubilee2 delivered Swim England National Curriculum Swimming & Water Safety Programme is repeated at every award stage.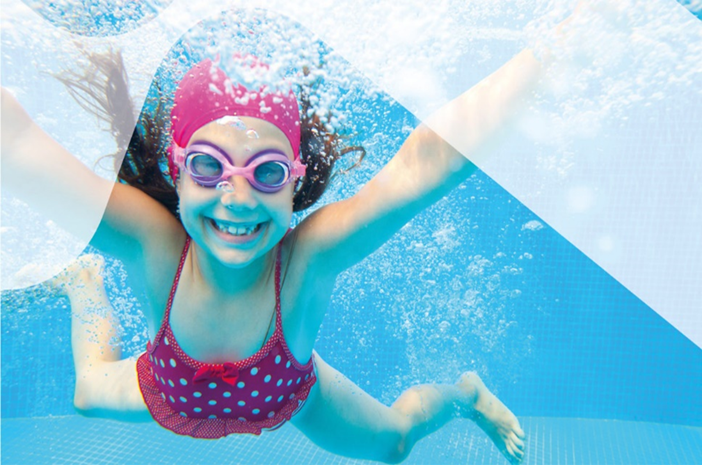 Length of lessons
In an indoor swimming pool, 30 to 45 minutes is optimal to allow adequate time for warm up, main theme, contrasting activity and for activities to be explained and organised.
Number and frequency of lessons
Schools must give sufficient pool time to ensure all pupils meet, or exceed, the full national curriculum requirements.
Lesson year groups
Primary schools can decide when they wish to teach their pupils swimming and water safety. It must be provided in Key Stage 2 if pupils have not met the national curriculum requirements in full by the end of key Stage 1.
To ensure all swimmers gain the maximum from their school swimming lessons at Jubilee2 we recommend that all schools book for a minimum of 2 terms per academic year, the same year group swims each term and there is a maximum of 40 children per swimming session.
Teaching qualifications
All of our School Swimming teachers hold a Level 2 qualification in Teaching Swimming and the Swim England - Teaching School Swimming and Water Safety CPD, along with a DBS certificate.
It is advised that all school teachers supporting swimming and water safety should have the necessary knowledge, skills and competence to support the swimming teacher. This is to ensure that as well as accurately assessing the three elements, they will also be able to provide additional practical support to the swimming teacher as required. To do this schools are encouraged to use their PE and Sport Premium to up-skill any of their staff involved within a primary school swimming programme. One course available to schools is he National Curriculum Training Programme. The training programme equips them with the relevant skills and knowledge and is comprised of two training programmes:
Support teacher of school swimming
Teacher of school swimming that use a combination of theory and practical sessions on how best to deliver school swimming.
Additional adults frequently support the delivery of school swimming lessons.
What the school will receive
The School Swimming Charter includes lots of lesson plans, certificates and badges. It can be accessed for free by teachers.
NRASTC Light School teacher water safety training as agreed with Jubilee2 for up to 2 teachers per school.
Support from the Aquatic Manager and Swim Teachers you are working with.
Curriculum Swimming and Water Safety Resource Pack available through Swim England.
Further information
Please contact Aquatic Manager: Carolyn Brookes