Newcastle in Bloom
About Newcastle in Bloom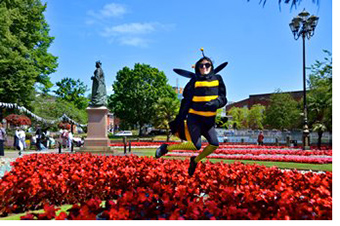 We are proud to have gained a Gold in the Heart of England in Bloom's small city category for 20 years consecutively. We were crowned the overall winner in the regional competition in 2017, 2018, 2019 and 2022.
In 2019, Newcastle was also entered into the Britain in Bloom 'Champion of Champions'. We were awarded a Gold award! This year we are honoured to have been nominated for the RHS National UK Finals.
The Newcastle in Bloom campaign is a borough-wide partnership which includes:
a wide range of volunteers
Our aim is to get more people involved to help improve their local area.
The Britain in Bloom competition goes far beyond being a floral competition. It helps to promote the local economy and increase civic pride.
Other benefits include:
long-term improvements to the environment
regeneration of disadvantaged or untidy areas
improving links between community groups
addressing issues such as sustainability, recycling and energy conservation
The Britain in Bloom initiatives make a significant contribution towards our priorities including:
promoting a competitive and sustainable economy
The displays in Newcastle-under-Lyme make the area a better place to live, work and visit.