New town centre multi-storey car park set to pave way for wider regeneration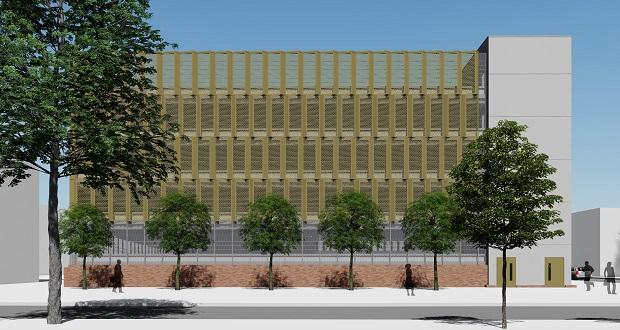 Building work on a new 450-space multi-storey car park in Newcastle could begin in spring to pave the way for wider development.
The car park development – to replace the ageing Midway which will be demolished to make way for homes – would underpin a £30 million regeneration of the Ryecroft area, with the blueprint for expansion including the building of a 100-bed hotel, 90 homes for over-55s and the headquarters of Apire Housing.
It's expected that up to 200 jobs could be created by the whole regeneration scheme, with another 319 indirect jobs supported in the supply chain.
And, in a nod to the town's heritage as it approaches the 850th anniversary of its first Charter, the building will be named Castle Car Park.
Simon Tagg, Leader of Newcastle-under-Lyme Borough Council, said: "Castle Car Park will be the cornerstone of the wider Ryecroft redevelopment, which is a key part of our Future High Streets Fund plan and will ensure we have a vibrant town centre in Newcastle.
"A bright, safe, clean car park will encourage visitors to boost our local economy and paves the way for the hotel and residential units, which will follow over the next two years."
Designs have already been drawn up by Newcastle-under-Lyme Borough Council's contractor and, should the planning application be approved, wider infrastructure works across the whole Ryecroft masterplan site would begin.
In 2020 Newcastle-under-Lyme Borough Council secured £11 million from the Government's Future High Street Fund for the Ryecroft development blueprint, with £3.5 million allocated to the car park development.
The planning application is due to be submitted in January and, if approved, it is anticipated that the car park would be completed in March 2024, complete with 40 electric vehicle charging points and 11 disability spaces. Access and exit will be via Liverpool Road.
Stephen Sweeney, Deputy Leader of Newcastle-under-Lyme Borough Council and Cabinet member for finance, town centres and growth, said: "By successfully applying for this funding we have been able to kick-start development on site, which will lead to millions of pounds' worth of additional private sector investment and the creation of up to 200 jobs.
"In turn that should lead to greater footfall in the town centre, supporting our businesses and community.
"We look forward to seeing work begin at Castle Car Park in late spring subject to its planning approval."