Council plan 2022 to 2026
Priority two: a successful and sustainable growing borough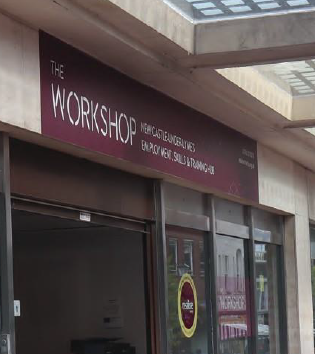 The council will grow the borough's economy and build on recent successes. We have the foundations for growth: good transport links, excellent education opportunities at Keele University and Newcastle-under-Lyme College, strong local communities and excellent partnerships. We have caught the attention of government and secured £50m to invest in the borough's development.
Our aim is for the borough to be a place where the economy is strong and sustainable, where local people have the skills and opportunities to take up the good jobs with good wages that are created, and where everyone benefits from economic growth. This also means that we need to ensure that there are good homes for everyone and that every citizen has a safe and secure place to live.
The next phase of the borough's development will move us closer to securing carbon net zero and will actively drive environmental sustainability.
Over the last four years the council has:
secured more than £50m in government funding to drive the transformation of the local economy - this forms the basis of growth plans for the next four years
served an abatement notice against the odour pollution from Walleys Quarry, with work ongoing to assert this notice
transformed, along with Aspire Housing, support for residents who are at risk of homelessness or who are sleeping rough
delivered long standing commitments to release sites for housing in Loggerheads, Knype Way, Sidmouth Avenue, Knutton and Red Street
Achieving our priorities
To achieve this priority we are committed to:
delivering the Newcastle Local Plan to support the sustainable development of our towns and villages
protecting our communities by improving how we use our enforcement powers
delivering the Sustainable Environment Strategy: protecting parks and green spaces for future generations, ensuring that the council's operations are carbon neutral by 2030
securing a carbon neutral borough by 2050, working with the county-wide Staffordshire Sustainability Board
delivering the £16m Kidsgrove Town Deal, including:


facilitating the Chatterley Valley Enterprise Zone development to deliver 1700 quality jobs for local people

enhancing Kidsgrove Railway Station and access to the local canal network

developing a Shared Service Hub with key partners


delivering the £23m Newcastle Town Deal, including:


development of key gateway sites including the 'Zanzibar' and Midway

connecting residents and businesses to skills training for the digital world

improving bus, cycling and walking infrastructure

delivering a circus-themed performing arts centre

building more than 400 homes in Knutton and Chesterton


delivering the £4.8m UK Shared Prosperity Fund programme, including:


improving the town centre

supporting culture and heritage

skills development for local people

supporting the most vulnerable people


continue to bid for government funding to support a pipeline of ambitious projects, including the further development of Keele Science and Innovation Park and the University Growth Corridor
secure a successful resolution to the Walleys Quarry odour problem